Wedding Packages
"When I saw you I fell in love, and you smiled because you knew." Arrigo Boito (Italian Poet)

Long after your cake has been eaten, the suits returned and the dress put away, the wedding photographs and album will last forever. You are not just paying for a service, you are making sure you never forget your wedding day and the people who shared it with you. Memories are priceless.
This service is available all over the UK and would love to work abroad if you don't want to risk using the 'package' photographer. I'm told you don't get much from those photographers
The style is non-obtrusive and natural, I never pose you awkwardly but in a way, you feel like you but look amazing. I am an award-winning, published professional. Any questions please do contact here
You can also click below for frequently asked questions and answers.
The Amor – Full Day Disc/USB Package
Digital only package.
Photography covering the full day, from bridal preparation through to the first dance and a little after. You will get 500+ fully edited images from an all-day wedding. (most likely a lot more) on USB or Disc.
Covering fewer hours is also an option. Packages are put together to suit exactly what you need.
Free consultation/s see me as many times as needed.
Online digital private viewing gallery; ideal for the family to view anywhere in the world.
Covers a radius of 70 miles from DN11.
Lifetime back up on my server. (Full resolution disc/USB with copyright to print)
This package also comes with £50 to spend on prints
From £699
If you have a date and venue set, ask for a free consultation. Contact Here
The Classic One – Full Day with Graphistudio Book + Disc
This package is the same as the Amor package and includes all the above but with a 12×8" or 8×8" 50-page album. This is a Graphistudio album and will hold up to 130 images.
Carefully Designed by me with your choice of images.
You fully approve the design before the book is sent to Italy for print.
Book cover options include Hardback, Metal, Leatherette, Silk, Maple, Suede. You can choose an image for the cover on selected covers. Other covers are available as an upgrade. You can also upgrade to a larger book, or add parent/guest books.
This also comes with £75 to spend on Prints
From £ 899 Contact Here
This is our popular Hardback book, these are the 40-page books, so the 50 are even thicker. The quality is just luxury. Click to view full-size image here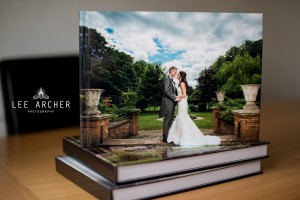 Additional Extras
Print packages and wall art
Parent and guest books from £120
Presentation cases for wedding books
Pre-wedding photoshoot and sign mount frame for the reception. With all images included and signing pen
The booking process starts with an email or phone call. Then we meet to discuss your day and giving me an opportunity to show you my products, my work, and to find the package to suit you.
A booking fee is all that is needed at this stage to reserve your date. This comes off the final balance but is non-refundable.
When you are ready we organise the pre-wedding photoshoot, (if added) usually somewhere you both love to visit, and closer to the date, we can either meet or talk on the phone to finalise the details. You can always get in touch if you need me. And for your added peace of mind, I am also fully insured.
Although the title is 'Sheffield Wedding Photographer', I do travel, for example; Woodborough Hall Notts. Middleton Lodge, Richmond, The Lowry, Manchester, Rothley Court Leicester, Carlton Towers, Selby. And many other venues in Derby, Hull and Leeds. I work all over the country.